Co-recipients of the TMA Lifetime Achievement Award
Guido Basso & Stompin' Tom Connors
The Toronto Musicians' Association is proud to recognize Guido Basso's decades of artistry with the TMA Lifetime Achievement Award and is delighted to acknowledge Life Member Stompin' Tom Connors with our Lifetime Achievement Award.
GUIDO BASSO
"Guido Basso is quite simply the best damn flugelhorn player in the world." – Rob McConnell
Montreal-born Guido Basso began playing trumpet at the age of nine. At the age of nineteen, he left Montreal to tour with Vic Damone, followed by three more years touring with Pearl Bailey and Louis Bellson. In 1960, Guido settled in Toronto and quickly became "first call" in the studios and jazz clubs. While still in his early twenties, he was featured as an on-air personality and music director on several popular television programs including Nightcap and Barris & Company, and co-hosted Mallets & Brass with Peter Appleyard. From 1969-71 he was music director of After Noon on CBC radio, and he later led orchestras for the CBC television programs In the Mood and Bandwagon.
As a founding member and featured soloist with Rob McConnell and the Boss Brass, Guido performed with The Singers Unlimited, Phil Woods, Mel Torme and The Hi Lo's. Many of his recorded solos with that award-winning ensemble have become jazz classics studied by both professionals and students across North America. He was also a member of the Rob McConnell Tentet, Nimmons 'N' Nine Plus Six, and Ron Collier's big band. Guido has also been in great demand on harmonica, having been featured in many concerts and on dozens of recordings. Guido has shared the stage with many of the world's top jazz artists including Dizzy Gillespie, Quincy Jones, Benny Goodman and Diana Krall. He is one of those rare musicians whose sound is unique and immediately recognizable, and has set the international standard for playing jazz flugelhorn. In 1994, Guido was made a Member of the Order of Canada. His CD Lost in the Stars was honoured with a JUNO award in 2004. Guido currently plays jazz concerts, is featured in a myriad of musical situations, and is currently in the studio working on a new CD. Otherwise he can be found at his home Eastern Ontario with his wife Kristin, growing garlic, cooking gourmet meals, and generally enjoying life. Guido is a Life Member of the TMA, having been a member since 1961. The Toronto Musicians' Association is proud to recognize his decades of artistry with 2009 TMA Lifetime Achievement Award.
STOMPIN' TOM CONNORS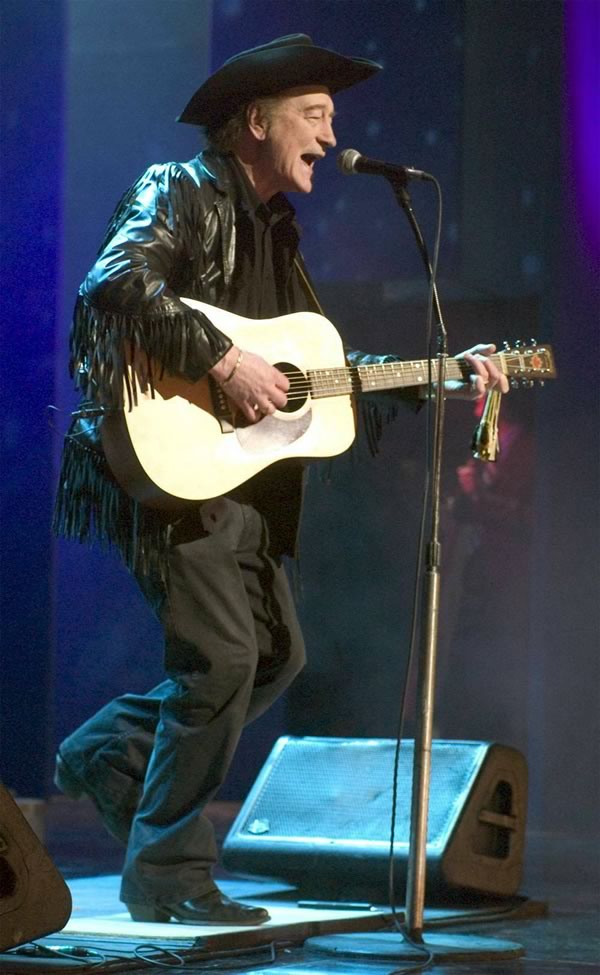 Tom Connors was born in Saint John, New Brunswick in 1936, and after being orphaned for several years, was adopted by the Aylward family of Skinner's Pond, PEI. At thirteen, Connors left home and hitchhiked to virtually every part of Canada. Fifteen years later, his big break came when he found himself short of money at the Maple Leaf Hotel in Timmins, and the bartender offered to give him a beer if he would sing a few tunes. This performance turned out to be the start of a 13-month stint playing at the hotel, and also led to a daily spot on the local radio station where he made his first recordings. So began a career that would see Stompin' Tom Connors release fifty albums which have sold some four million copies in Canada, including many songs that have become treasured favourites across the country.
From his first hit, "Bud the Spud," Connors' songs have celebrated and defined what it is to be Canadian. Many of his songs, like "Tillsonburg," tell stories from his own journeys across the country. He has written about national passions ("The Hockey Song"), national heroes ("Blue Berets"), and national tragedies ("The Black Donnellys" and "Fire in the Mine"). Connors was made an Officer of the Order of Canada in 1996. He received a SOCAN National Achievement Award in 1999, and the Governor General's Performing Arts Award in 2000. Tom also holds three honourary Doctorates, from St.
Thomas University (Laws, 1993), the University of Toronto (Laws, 2000), and the University of PEI (Literature, 2003). In 2009, Connors received the special distinction of being portrayed on a stamp released by Canada Post. From 1971 through 1975, Stompin' Tom received five straight JUNO awards as best country male artist, and another for his album To It and At It. In 1978, he returned them all, explaining, "I feel that the JUNOs should be for people who are living in Canada, whose main base of business operations is in Canada, who are working toward the recognition of Canadian talent in this country and who are trying to further the export of such talent from this country to the world with a view to proudly showing off what this country can contribute to the world market. Until the academy appears to comply more closely with aspirations of this kind, I will no longer stand for any nominations, nor will I accept any award given." More than simply playing songs about Canada, Stompin' Tom Connors has been a fierce and uncompromising advocate for truly Canadian music and musicians. His patriotism, integrity, and his tremendous contribution to our nation's musical heritage are truly exemplary. The Toronto Musicians' Association is delighted to acknowledge Life Member Stompin' Tom Connors with our Lifetime Achievement Award.
https://tma149.ca/wp-content/uploads/2019/12/guido_basso.jpg
1259
900
Lucie
https://tma149.ca/wp-content/uploads/2020/02/tma149_logo_4.jpg
Lucie
2011-02-15 14:15:09
2020-06-24 07:57:59
Co-recipients of the TMA Lifetime Achievement Award